With Summer fast approaching ask yourself "am I ready for Summer?". Are you really? Weather wise YES, but when its time to slip on that bikini all of a sudden your not ready. So, its been close to six months since your New Year's resolution and I bet that one of those resolutions was to join a gym. Confess...did you actually go? And how long did you last? OK so I'm guilty too. First, I did not join the gym. I admit I had received a free 3-month membership to join but I also admit that I'm just lazy. Yup, lazy! Second, I bought excercise DVD's. Again lazy and collecting dust near the television. OK, next step try to find a bikini that's going to add an extra cup size, minimize the booty, and distract the eye from the mid section. Impossible? Maybe, possible if the bikini is cute enough to distract from everything else. NB: I rarely wear a one-piece I find bikini's more flattering. With that said here are a few of my fave's!
And by the way, its not the extra pounds that should discourage you from going to the beach because it's really about how you wear it and your confidence. So shake that booty!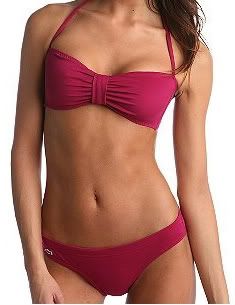 From Urban Outfitters this is one of my top choices. Made by Lacoste. TOP $52.00usd & BOTTOM $52.00usd in Rubine Red colour only.


From Urban Outfitters. Made by Lux. TOP $48.00usd & BOTTOM $58.00usd available in Navy and Yellow.



From La Vie en Rose. TOP $34.95cdn & BOTTOM $29.95. Available in Red, Brown, Khaki, Navy, & Yellow. You can mix & match different tops & bottoms. I've seen these in real life & they are so much prettier. These are a really good option because tops available have padding or no padding & different style bottom.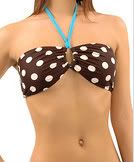 From La Vie en Rose. With this style there are different cuts available in the same pattern. Great for different body types! TOP $34.95cdn & BOTTOM $29.95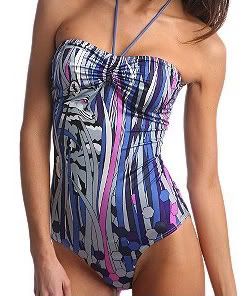 From Urban Outfitters. Made by Foxy & availble ONLINE only! on SALE $59.99usd. As mentioned I'm not a fan of one-pieces but this is a great suit. Also, great as a top.



From Urban Outfitter. Made by Lux. $98.00usd. Great as a top! Available only in Navy.
http://www.urbanoutfitters.com/
Other great stores for swim wear: