One of my favourite scenes in the Sex in the City movie was Carrie's apartment make-over. I just love the use of colour in a small space, and her use of space for that matter. OK so my blog is about beauty, fashion, and skincare however interior design has more in common with fashion than you think. One not only has to keep up with fashion but with interior design trends as well. Fashion houses such as Missoni and Zara have also expanded into the interior design realm with collections ranging from textiles to home accesories:
Missoni Home
Zara Home
Therefore, its no surprise that there has been much written about Carrie's apartment makeover on various blogs and featured in the July'08 issue of
Traditional Home
magazine. When I was reading one of my favourite blogs
MadeByGirl
, she had an entry about the set. Which initially caught my eye and prompted me to share with all of you. Here are a few pics from the set. Enjoy!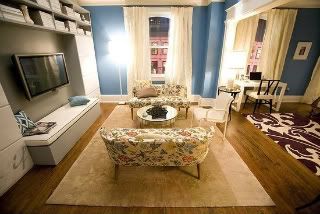 photos credits: Craig Blankenhorn/New Line Cinema
credits: CasaSugar
In case your curious, the fantastic purple rug is from The Rug Company and the wall paint colour was a custom blend but smiliar to Benjamin Moore's Electric Blue.
(quoting production designer Jeremy Conway, from the CasaSugar interview)